Ingredients
1lb Gemelli pasta**
1 pkg hot Italian sausage (can also use sweet sausage, chicken sausage, etc)
1 small onion, diced
1 bunch of asparagus, ends cut off & stalks cut into 2″ pieces
2 cups cherry tomatoes, halved
2 garlic cloves, minced
1 tsp salt
1/2 stick of butter
1/2 cup parmesan cheese + more for serving
4 tbsp olive oil
**My preferred pasta is Severino, which can be found at Whole Foods. Any other curly/twisted pasta will work well for this recipe.
Kitchen Tools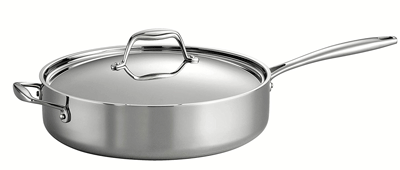 and
Instructions
Cut the sausage into 1″ pieces. You can also take the sausage out of the casing if you want to break it up into crumbles.
Add 2 tbsp olive oil to a pan over medium-high heat.
Sautee the sausage, stirring frequently. Cook through, approximately 10 minutes.
While the sausage is cooking, start to boil the water for pasta. Add a generous amount of salt to the water.
Once the sausage is cooked, scoop it out and move to a clean bowl. Keep the sausage drippings in the pan.
Lower the heat to medium.
To the pan that had the sausage in it, add the onion. Sautee until the onion starts to soften, 3-5 minutes.
Add 2 tbsp olive oil, tomato, asparagus, garlic & salt
Cook 8-10 minutes, until softened
Meanwhile, add the pasta to the water. Give it a stir to prevent sticking. Cook according to package instructions.
Add the butter to the tomato/asparagus mixture & stir to combine
Add the sausage back into the pan
The pasta should be ready at this point. Using a slotted spoon, scoop & transfer the pasta from the water into the pan with the sausage. Don't drain the pasta.
Add the parmesan cheese & stir vigorously to thicken*
Serve while hot!
*If the pasta seems a little thick, add a few tsp at a time of pasta water to loosen it. If it seems too watery, add a little more parm and stir to thicken.